Landscape Painting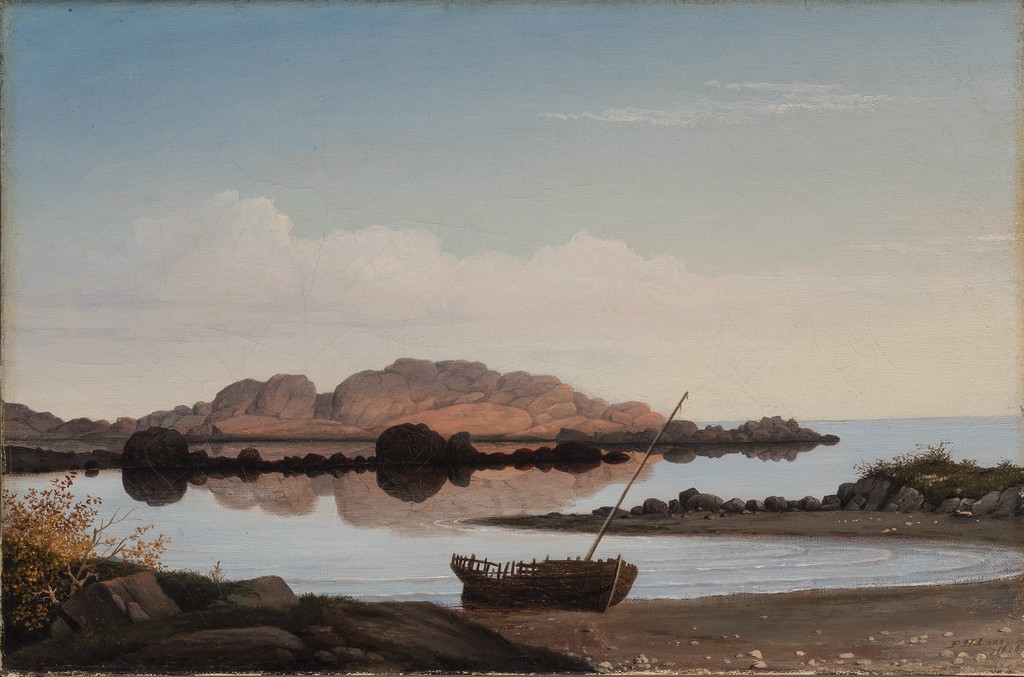 Object-Fitz Henry Lane, Brace's Rock, Brace's Cove
In the mid-nineteenth century, Fitz Henry Lane pioneered a distinctive style of landscape painting that is characterized by serene depictions of America's northeastern coast bathed in crystalline light. Brace's Rock, Brace's Cove, one of his last works, is a haunting twilight scene of a notoriously dangerous group of rocks viewed from a cove near Lane's home in Gloucester, Massachusetts. In& contrast to the luminous sky and water, the rocks and shoreline in the foreground are cast in darkness. Gently lapping waves and a skeletal, foreboding-looking small boat disrupt the otherwise placid seascape. The painting reflects the bleak outlook of a nation devastated by the American Civil War (1861–65), when shipwrecked vessels became a common artistic metaphor for the battles raging between North and South. Here, Lane masterfully exploits the expressive potential of light cast across a familiar locale in order to elicit an emotional response.

Learn more about this painting on the Terra Foundation website.
Based on a field study (Brace's Rock, Eastern Point, 1863, Cape Ann Museum, Gloucester, Massachusetts), Fitz Henry Lane's paintings of Brace's Rock near Gloucester largely relinquish the practical focus of an artist who had hitherto "earned his money . . . mostly by painting 'portraits' of vessels for sailors and ship-owners," as critic Clarence Cook wrote in 1854.Clarence Cook, "Letters on Art—No. 4," Independent, September 7, 1854, repr. American Art to 1900: A Documentary, eds. Sarah Burns and John Davis (Berkeley, Los Angeles, London: University of California Press, 2009), 308. The author is grateful to the Terra Foundation for American Art for allowing him to study Lane's painting for several months by funding two university courses at the University of Western Australia, an international conference, and the exhibition Continental Shift: Nineteenth-Century American and Australian Landscape Painting at the Art Gallery of Western Australia, Perth, July 30, 2016–February 5, 2017. Continental Shift was co-organized by the Art Gallery of Western Australia and the Terra Foundation for American Art. This particular picture is an anomaly, deviating mysteriously from the originating sketch and from the actual topography, offering instead the metaphysical import of liminal themes: land and sea, nature and carpentry, illusionism and artifice, serenity and doom, this world and the next.
A slowly swinging line of beauty marks the route by which the wrecked boat must have landed. Its mast cuts across this passageway and the tonally contrasting layers of rock and sea, energizing the tranquil scene whose horizon is lower, and sky larger, than in earlier iterations. Serenity is restored by the eerie reconciliation of conflicting formal qualities: brilliance and clarity; monumental and miniature scales; vaporous clouds that echo the shapes of solid rocks. The boat bears more than a passing resemblance to the wreck in Lane's Dream Painting (1862, Terra Foundation for American Art). Contradicting Thomas Cole's empirical emphasis on natural reflections in his 1836 "Essay on American Scenery," Lane's sea is an idealizing mirror; shadow and reflections flatten objects into things of conspicuous artifice that lacknatural causation. The beached hull—crack-ribbed but still masted—defies easy explanation as a symbol: if wrecked at sea, how did it find its way to these placid sands? If abandoned, how had it not washed out to sea? The listing mast seems to radiate a force field, driving ripples of the ebbing tide into widening concentric ellipses, like waves from a radio tower.
The point of intersection between mast and horizon fixes the sight line, but in which direction? While retaining a familial resemblance to the other paintings based on his field study, this one offers a mirror image of their topography: the rock appears to show what would be its back when viewed from the cove, and sits on the left rather than the right; the panoramic beach is moved and seems, in fact, to follow the shape of an underdrawing on the canvas depicting the coast of Maine. Locals would know that this side of the rock could only be seen from the shore south of the cove, where granite cliffs plunge into the sea and where there is no place for an observing painter to stand. Yet only something like tall cliffs could explain the prolonged shadow stretching to the globular rosary of rocks and reflections in the middle distance: a dark brown spit engulfed by the cold yellow reflection of that fractured leviathan, Brace's Rock—enlarged, reversed, and upside down beneath the duck-egg blue sky.
The philosopher Maurice Merleau-Ponty (1908–1961) argued that once we disregard the content of empiricist vision, we are "free to acknowledge the strange mode of existence of the world behind us."Maurice Merleau-Ponty, Phenomenology of Perception, tr. Donald A. Lands (London and New York: Routledge, Taylor & Francis, 2012), 49. In fusing contradictory views, Lane's self-effacing brushstrokes and gyroscopic vision invoke an impossible post-mortem consciousness: a once familiar world from which the artist and his point of view are absent. Only the memento mori of the skeletal wreck is left to signify the extinction of human life and intimate a world beyond.
Richard Read
Emeritus Professor, University of Western Australia, Perth
---