Cosmopolitanism and the Gilded Age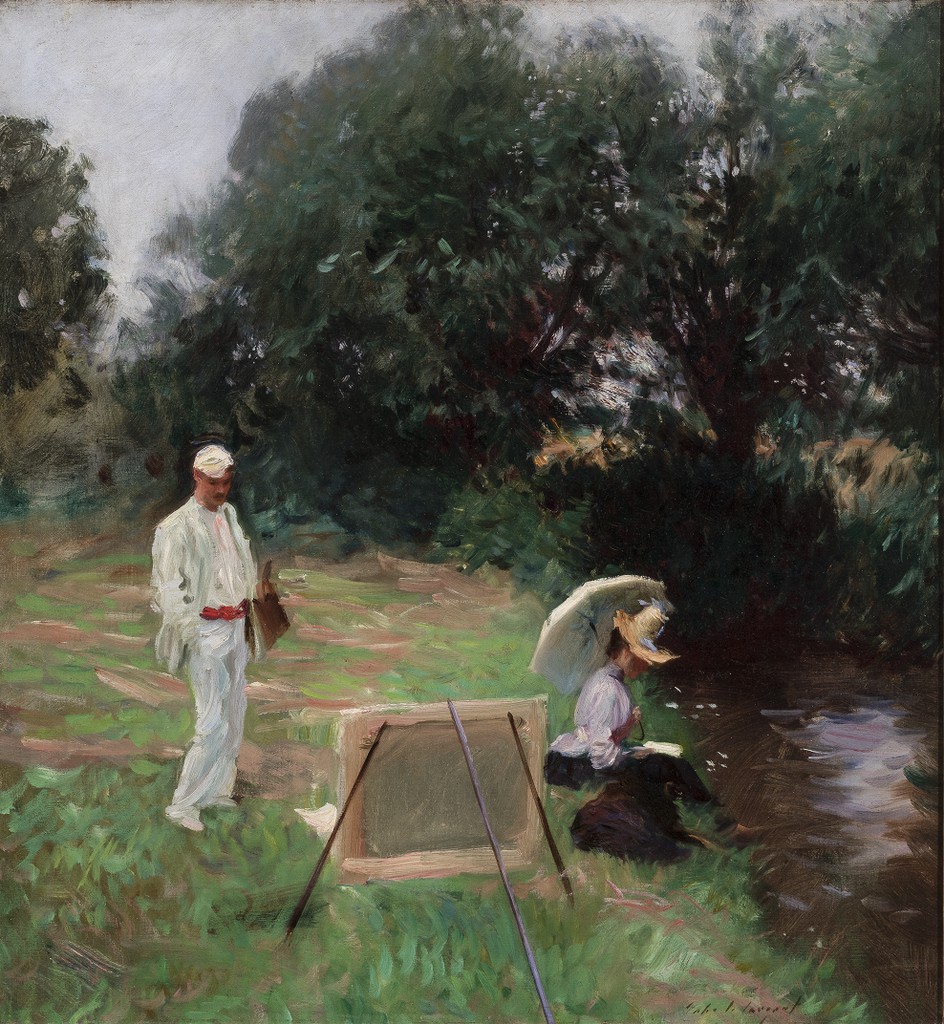 Object-John Singer Sargent, Dennis Miller Bunker Painting at Calcot
A widely traveled and cosmopolitan American expatriate artist, John Singer Sargent lived and worked in Paris for twelve years before moving permanently to London in 1886. He made notable and extended visits to the United States, and was one of the country's most popular painters during the late nineteenth and early twentieth centuries. Dennis Miller Bunker Painting at Calcot depicts Sargent's close friend and fellow artist at work in the countryside. Bunker's portable canvas is positioned low, on the bank of a stream, where Sargent's younger sister Violet is absorbed in reading. Like other progressive American artists influenced by the French impressionist Claude Monet (1840–1926), Sargent and Bunker experimented with painting outdoors, working directly on the canvas to capture transient effects of natural light and color. The dense vegetation of the riverbank proved to be an ideal vehicle for the broken brushwork and dappled light evident here.

Learn more about this painting on the Terra Foundation website.
The portrait of Mrs. John Stevens (Judith Sargent Murray) by John Singleton Copley marks the meeting of two emblematic figures in the establishment of American cultural identity at a key point in time, just before the American Revolution and the creation of the United States of America. Copley was without doubt the most significant painter in Boston during the 1760s. When his painting A Boy with a Flying Squirrel (Henry Pelham) (1765, Museum of Fine Arts, Boston) was exhibited in London in 1766, it confirmed the idea that a major artist, trained exclusively in colonial America, was now to be reckoned with. A letter reported that the great English painter Joshua Reynolds (1723–1792) himself had said that Copley could become one of the greatest painters in the world provided that he came to study in Europe. This praise was heaped upon the young Bostonian at a moment when the compositional style of his portraits was evolving.
Painted just a few years later, the portrait of young Mrs. Stevens testifies to the preeminent influence of Reynolds, whose 1760s portraits were known in colonial America through mezzotint and engraved reproductions. The English painter tended to blur the boundaries between portraiture and a style of historical painting sometimes inspired by mythology. In Lady Sarah Bunbury Sacrificing to the Graces (1763–65, Art Institute of Chicago) Reynolds clothed his model in a seemingly classical dress, knotted simply under the bosom, without corset or petticoat, a style completely foreign to the fashion conventions of the 1760s. He placed her in a classical architectural setting before a tripod and a statue of the Three Graces, directly inspired by classical antiquities.
Copley may have been familiar with Reynolds' composition through a mezzotint executed by Edward Fischer and published in 1766; certainly at the end of the 1760s, Copley painted women's costumes with a certain classical appearance. The portrait of Mrs. Stevens is simpler than Reynolds' painting but includes accessories that are discreetly classical, such as the dress and the basket of flowers held in her right hand. The landscape background also evokes pastoral antiquity.
Copley often complained in his private correspondence about the lack of culture among his patrons, but young Judith Sargent, who had recently wed John Stevens, was a member of colonial America's educated elite, and it is likely that the artist would have discussed iconographic choices with her. The modern dress and conventional setting he often used to evoke the lifestyle of more typical clients are absent here.
Copley adopted an identical setting for two portraits from 1767 and 1773 of Rebecca Boylston, whose intelligence and refinement he also appreciated.Carrie Rebora Barratt, John Singleton Copley in America (New York: The Metropolitan Museum of Art, 1995), 232. Reynolds' Lady Sarah Bunbury served as a model not only for Copley but also for the English artist Richard Samuel (active 1770–1787), whose group portrait The Nine Living Muses of Great Britain (1778, National Portrait Gallery, London) depicts distinguished British women within the intellectual circles of London life during that era.Elizabeth Eger and Lucy Peltz, Brilliant Women: 18th-Century Bluestockings (London: National Portrait Gallery, 2008), 59–61. To some extent the future of Judith Sargent Murray as an intellectual and a woman of letters appears to have been heralded in the iconography of her portrait by Copley.
Guillaume Faroult
Senior Curator, Musée du Louvre, Paris, France
---