Introduction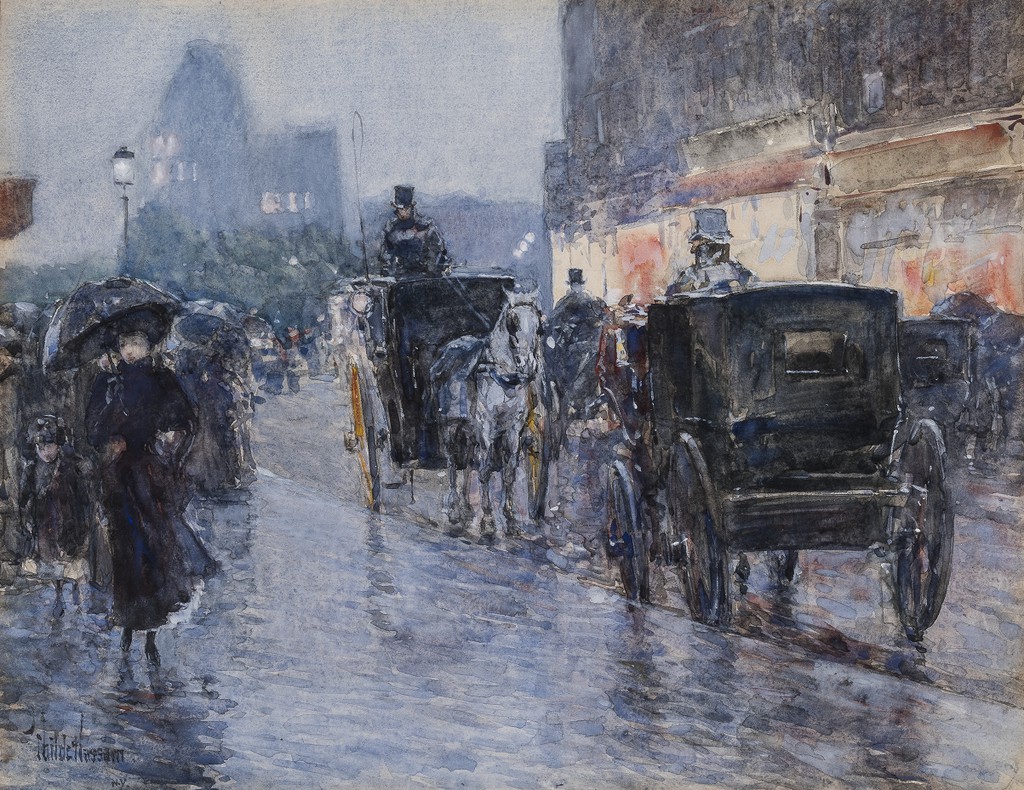 Childe Hassam (1859–1935)
Horse Drawn Cabs at Evening, New York, c. 1890
Watercolor on paper, 14 x 17 3/4 in. (35.6 x 45.1 cm). Terra Foundation for American Art, Daniel J. Terra Collection, 1999.66
Childe Hassam, a preeminent American impressionist, pioneered the artistic portrayal of the modern American city and was one of the most critically and financially successful artists of his generation. Horse Drawn Cabs at Evening, New York is a view looking toward Madison Square in Manhattan. Hassam skillfully employed the fluid medium of watercolor to obscure recognizable landmarks, as if viewed through rain, and to explore the effects of light shimmering on wet pavement, the blurred movement of passersby under umbrellas, and cabs in the street. Urban street scenes became Hassam's specialty when he moved to New York in 1889 after a three-year sojourn in Paris. He was particularly drawn to the theme of cabs, and is said to have painted from the perch of a hansom, using the front seat as his easel. His broken, expressive brushwork and keen interest in the incessant flux of modern urban life signify his embrace of impressionism.
Learn more about this watercolor on the Terra Foundation website.
Perspective
The experience of turn-of-the-century New York City was a subject as important to painters as it was to novelists, but where writers such as Theodore Dreiser (1871–1945) dug into the grittiness of urban lives, Childe Hassam absorbed its visual spectacle. Illustrations by Hassam and Hughson Hawley (1850–1936) for articles in Scribner's and Harper's Weekly documented the popular joy of promenading. As in Paris, this was an important social activity for New York's upper classes, who made themselves visible to others in spaces of leisure and amusement. Hassam, like a latter-day descendent of midcentury French flâneurs, used a hansom cab as a moving studio, inserting himself into the multitude while remaining invisible from the crowd. "There is nothing so interesting to me as people," Hassam remarked in an 1892 interview. "I am never tired of observing them in every-day life, as they hurry through the streets on business or saunter down the promenade on pleasure. Humanity in motion is a continual study to me."1
The watercolor Horse Drawn Cabs at Evening, New York (c. 1890) demonstrates Hassam's persistent interest in rainy scenes, which can also be seen in the paintings Rainy Day, Boston (1885, Toledo Museum of Art, Ohio) and Cab Stand at Night, Madison Square, New York (1891, Smith College Museum of Art, Northampton, Massachusetts). The faint light of the street lamp reflecting off the display window creates a shimmering reflection on the wet surface of the street. Hassam preferred specific weather conditions and settings that offered a view of the city unaffected by the class conflict and ethnic tensions prevalent in America's urban centers. To capture this moment, Hassam would have waited for the most picturesque groups of passersby to appear. Confined to a brief sketch rather than an overwhelming panoramic view, this work provided a visual parallel to critic and writer Mariana G. Van Rensselaer's (1851–1934) representation of the metropolis in her essay "Picturesque New York," published in Century Magazine in 1892.
During his long career, Hassam worked in both oils and watercolor, but the latter dominated his early output. Comparing the Terra Foundation watercolor with the oil sketches April Showers, Champs Elysees, Paris (1888, Joslyn Art Museum, Omaha, Nebraska) and Cab Stand at Night, Madison Square, New York, it is not difficult to see a subtle transition in Hassam's technique. In the watercolor it appears he was on the threshold of achieving an eclectic conglomerate of staccato dabs of impressionism, as well as the tonal harmony and flat patterning of James Abbott McNeill Whistler (1834–1903). Realist execution in Hassam's work gradually gave way to a more flattened and decorated way of painting through the dissolution of figure and form. As skyscrapers supplanted the genteel avenues of the nineteenth-century city, the horse-drawn cabs he depicted would soon be replaced by automobiles and the upward thrust of the skyline would soon forever alter New York's urban view.
---
A.E. Ives, "Talks With Artists: Mr. Childe Hassam on Painting Street Scenes," Art Amateur 27 (October 1892): 116–117. ↩︎