Introduction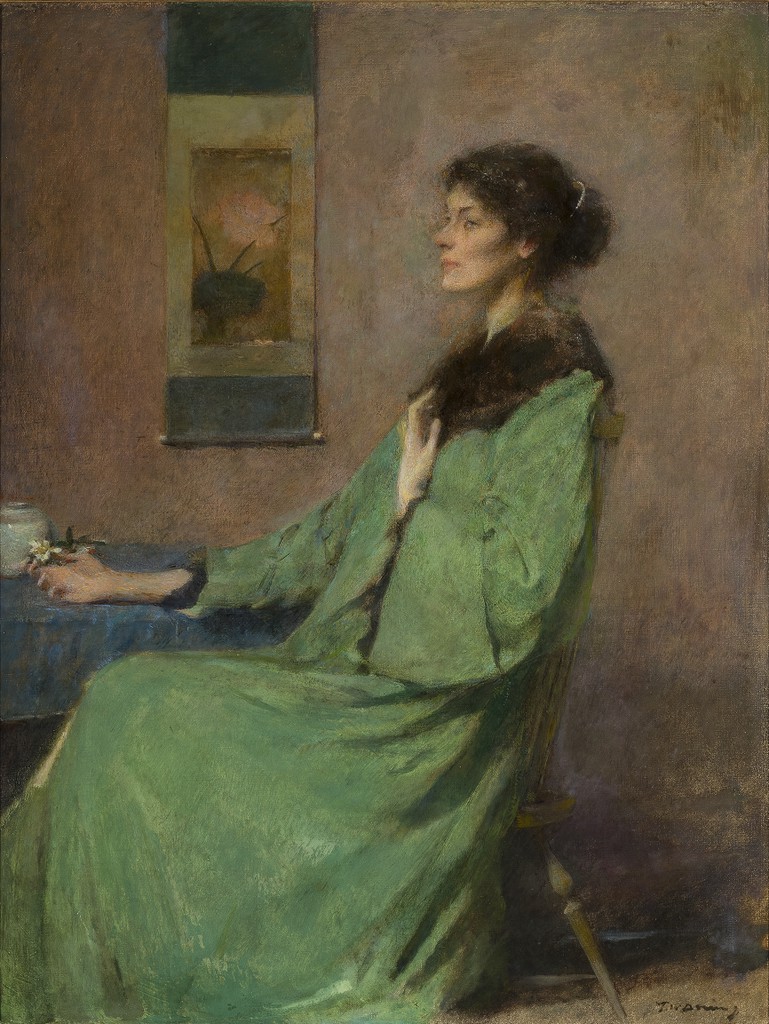 Thomas Wilmer Dewing (1851–1938)
Portrait of a Lady Holding a Rose, 1912
Oil on canvas, 21 1/4 x 16 1/4 in. (54.0 x 41.3 cm). Terra Foundation for American Art, Daniel J. Terra Collection, 1999.46
Inspired by the Dutch seventeenth-century painter Johannes Vermeer (1632–1675) and the English Pre-Raphaelites of the mid-nineteenth century, Thomas Wilmer Dewing produced ethereal depictions of women. By elevating formal values over narrative content, he embraced the "art for art's sake" doctrine promoted by the expatriate artist James Abbott McNeill Whistler (1834–1903). Portrait of a Lady Holding a Rose shows a seated woman, in profile, absorbed in a contemplative reverie. The painting also reveals the influence of Japanese art on Dewing, who portrayed his model in a wide-sleeved green garment resembling a kimono and included a Japanese scroll on the back wall. Less a portrait than a celebration of purely formal beauty, the painting blends the abstraction of Asian aesthetics with the realism of the Western tradition to appeal to both the intellect and the senses.
Learn more about this painting on the Terra Foundation website.
Perspective
Thomas Dewing's Portrait of a Lady Holding a Rose exhibits direct references to Asian art. The seated figure is wearing a wide-sleeved gown in the style of a kimono and posing before a Japanese hanging scroll and ceramic vase, also likely Japanese. She does not interact with the viewer. Like the porcelain and the flower, her profile becomes a decorative object of the viewer's gaze. This painting is similar to numerous other portrayals of American women by Boston and New York artists of the time, including William Merritt Chase, Childe Hassam, Edmund Tarbell, Frank Benson (1862-1951), Robert Reid (1862-1929), and Joseph DeCamp (1858-1923).
Notwithstanding individual stylistic differences, these artists painted women with generalized features and artful accessories, picturing a new ideal of femininity. They represented recognizably "modern" American women at leisure in interior settings amid Asian art and artifacts, lost in reverie and often dressed in kimonos, features that to an affluent audience suggested both sophisticated taste and female sexuality. Drawing on art historical sources including paintings of women in Dutch interiors by Johannes Vermeer (1632–1675), and amid Asian motifs by James McNeill Whistler (1834–1903), artists such as Dewing found a ready market for their images of decorative femininity. The models' languid poses and the paintings' highly orchestrated and nearly claustrophobic interior settings might be seen as a foil to the so-called New Woman's demands for greater social freedoms and political agency in the public arena.
The inclusion of Japanese elements in these works underscores this vision of passive femininity. Though Japan had begun to emerge as a global economic and military power after the Meiji Restoration of 1868, Japanese art and aesthetics were regarded in the West as highly feminized, embodying elegance, refinement, and serenity. White, wealthy Americans used Japanese objects to exhibit their refined taste and signify their economic status, and artists responded by producing aestheticized portrayals of American women that evoked this stylistic milieu. Dewing was a friend of, and buying agent for, the collector Charles Lang Freer (1854–1919), who shared his admiration for Asian art and Japanese aesthetics, and held in high esteem the ukiyo-e woodblock print master Kitagawa Utamaro (1753–1806), especially known for his depictions of women.
The aestheticized women created by Dewing and his peers emulated the Western perception of Japanese women as delicate, quiet, and passive. Through countless artistic and cultural sources, including fiction and nonfiction, operas and musicals, paintings, prints, photographs, and advertisements, Americans became infatuated with this illusionary image of the Japanese, which remains in the national imagination to this day. American women imitated these fictive Japanese maidens in their fashions, poses, and lifestyles, while searching for their own new feminine ideals. The theatricality of Dewing's picture reflects both the aspirations of his model, Gertrude McNeill, who later worked in silent films, and the artist's own status as an amateur actor who enjoyed costumed entertainments. His painting exemplifies the cultural politics of representation during a time of shifting American gender roles and new American encounters with Asia.