Introduction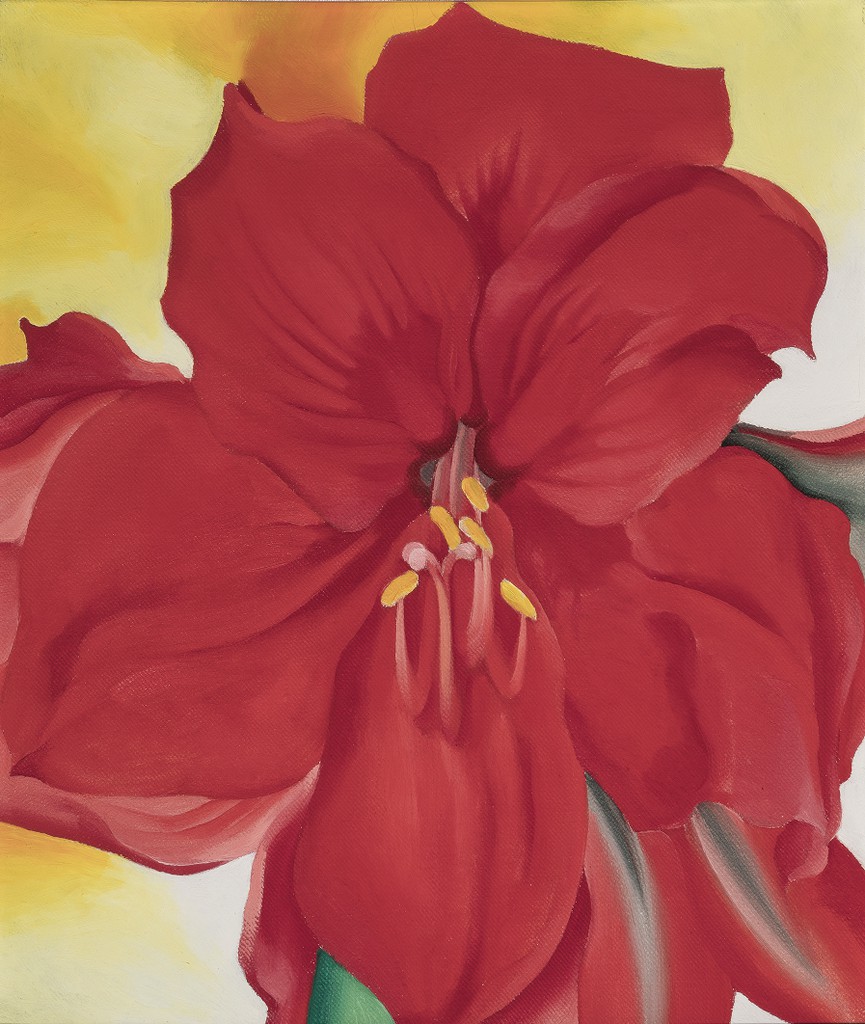 Georgia O'Keeffe (1887–1986)
Red Amaryllis, 1937
Oil on canvas, 12 x 10 1/8 in. (30.5 x 25.7 cm). Terra Foundation for American Art, Gift of Mrs. Henrietta Roig. Image © Georgia O'Keeffe Museum/Artists Rights Society (ARS), New York., C1984.1
Georgia O'Keeffe developed a singular modernist style that veered toward abstraction. She is best remembered for her studies of flowers and her views of Manhattan skyscrapers and the Southwestern landscape. In this painting, a single vibrant red blossom is seen close-up against an undefined yellow and white background suggestive of brilliant sunlight. Despite the work's small size, O'Keeffe gives a single blossom a commanding presence—enhanced by cropped framing. The velvety textures of the petals, rendered through the juxtaposition of softly modulated surfaces, illustrate the artist's careful observation of natural forms. Red Amaryllis differs from O'Keeffe's earlier, somewhat abstract flower paintings in its greater naturalism and realism. This shift may be in response to contemporary interpretations of her abstract works as veiled expressions of her own sexuality, a reading O'Keeffe adamantly rejected.
Learn more about this painting on the Terra Foundation website.
Perspective
Georgia O'Keeffe's flowers are the most difficult of her paintings to see. More than just familiar—as flowers in general are—her paintings have acquired an inconspicuousness: the overabundant merchandizing of these images has had the perverse effect of fueling the artist's fame while stifling scholarly discussion of her singular accomplishments. The widespread popularity of these paintings makes art historians and curators almost instinctually bypass them for serious, analytical discussion, while nonetheless capitalizing on their ability to draw attention and crowds. While O'Keeffe is that rare artist who is a woman yet not unknown, her work and career are often presented as America's twentieth-century pulp fiction.
From a Canadian viewpoint, O'Keeffe feels particularly familiar, given her profound influence on early Canadian modernists and her attitude toward nature, which resonates with the English Canadian idea of spiritual "wilderness" as a core cultural identity. Exhibited in Canada only in group shows until recently, O'Keeffe has been presented through this limited lens, with inevitable comparison to the forest paintings of British Columbia's Emily Carr (1871–1945). Less discussed is O'Keeffe's importance to the next generation of Canadian painters, such as Pegi Nicol MacLeod (1904–1949) and Marian Dale Scott (1906–1993), for whom O'Keeffe's flower paintings offered new ways of seeing.
To see these flowers today requires first unseeing what obscures them—in other words, freeing the images from the burden of commodification and prior interpretations, including O'Keeffe's own sustained resistance to any erotically evocative readings. These paintings offer that most elusive of artistic achievements: an image that is at once profound in its aesthetic simplicity and compelling in its ordinariness. It is predicated, as O'Keeffe insisted, on taking time to see: "Nobody sees a flower—really—it is so small—we haven't time—and to see takes time.…So I said to myself—I'll paint what I see—what the flower is to me."1
For the Art Gallery of Ontario's 2017 installation of the Tate Modern exhibition Georgia O'Keeffe, it was critical to add Red Amaryllis to the handful of flower paintings already touring with the retrospective. It was selected specifically to offer a foil to Jimson Weed/White Flower No 1 (1932, Crystal Bridges Museum of American Art, Bentonville, Arkansas). Large, cool, and formal, Jimson Weed is the very opposite of Red Amaryllis.
Red Amaryllis is a small painting. The red is intensified by the halo of yellow and white. The layered petals, grounded by a hint of thick green stalk below, radiate to the edges of a canvas just beyond the size of a human face. The flower addresses the viewer with its brazen and redolent frontality. By 1937 O'Keeffe had been painting flowers for over a decade; she had magnified, zoomed in, and painted them large, scandalizing the audiences who first saw them. Red Amaryllis is exceptional precisely because of its size. Already confident in her ability to redefine monumentality, in this canvas the artist tests the limits of scale by com- pressing the resplendent blossom to harnesses its grandeur. Its smallness reveals O'Keeffe's radical vision.
---
Georgia O'Keeffe, Georgia O'Keeffe (New York: Viking Press, 1976), n.p. ↩︎