Introduction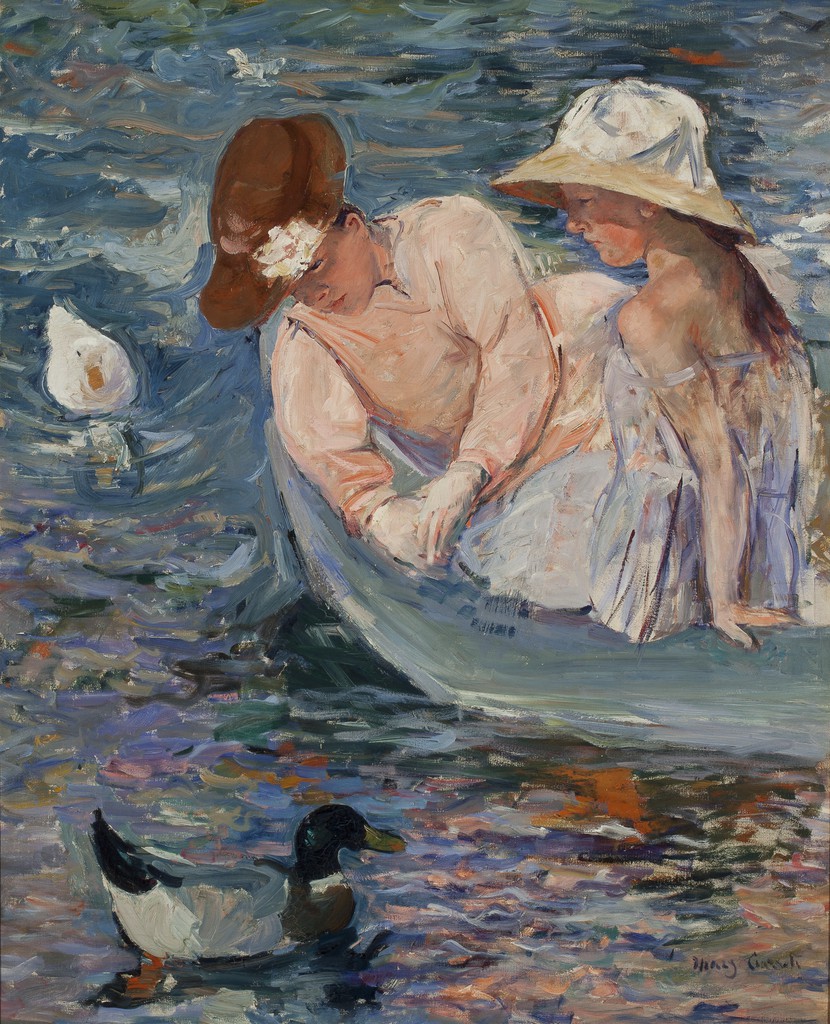 Mary Cassatt (1844–1926)
Summertime, 1894
Oil on canvas, 39 5/8 x 32 in. (100.6 x 81.3 cm). Terra Foundation for American Art, Daniel J. Terra Collection, 1988.25
Mary Cassatt achieved recognition in both Europe and the United States during her career, and was the only American to exhibit with the French impressionists. In 1894 the artist purchased the Château de Beaufresne in the countryside fifty miles northwest of Paris. There she created a series of paintings, including Summertime, and prints of people in boats feeding or observing the ducks on her new property's reflecting pool. This work marks her return to easel painting after four years, during which time she focused on printmaking and created her mural, Modern Woman, for the 1893 World's Columbian Exposition in Chicago. Cassatt's vigorous technique and use of bright colors assert her identification with impressionism. The work's compressed perspective, equal emphasis of figures and ground, and theme of feminine leisure owe a debt to Japanese art, which influenced Cassatt's production, particularly after she viewed an exhibition of Japanese prints in 1890.
Learn more about this painting on the Terra Foundation website.
Perspective
Leisure boating among the bourgeois class was a frequent subject of impressionist painters such as Claude Monet (1840–1926) and Berthe Morisot (1841–1895). It is also well known that these artists were considerably influenced by Japanese ukiyo-e prints, including in their expression of boating themes. During the Edo period (1603–1868) the general public in Japan enjoyed leisure boating, boarding various types of vessels to view the scenery of seasonal attractions—spring cherry blossoms, summer fireworks, colorful autumn leaves, and winter snow. These subjects became popular ukiyo-e themes, and Japanese woodblock artists often depicted beautiful women enjoying boating excursions in seasonal settings. The themes also appealed to impressionist painters, who sought to capture the daily life of the bourgeoisie in scenery filled with light. The impressionists adopted ukiyo-e compositional elements, such as cropping in a way that would allow a boat image to move off into space beyond the picture plane.
Cassatt had been introduced to ukiyo-e through Edgar Degas (1834–1917), and was exceptionally impressed by the exhibition of Japanese prints held in 1890 at the École des Beaux-Arts in Paris. She made several visits to the exhibition and urged Morisot also to see it. Cassatt immediately set about making a series of ten etchings inspired by the prints that had so moved her. The linear delicacy and flat color configurations of these etchings, which depicted women rearing children and in daily routines of grooming, reflect ukiyo-e influence.
In 1894, Cassatt moved to Château de Beaufresne, her country home located in Le Mesnil-Théribus, where she produced oil paintings and prints of boating in the garden pond. Summertime is one of these. Its high-angle, close-up perspective and vertical orientation distinguish it from her other depictions of this subject, which are characterized by horizontal orientations and a more distant viewpoint that includes the pond environs. It is very likely that Cassatt's reference for Summertime was the center panel of the ukiyo-e print triptych Sumida River Ferry (c. 1757) by Torii Kiyonaga (1752–1815), which appeared in the catalogue of the Exposition de la gravure Japonaise (Japanese Print Exhibition) in 1890. Both are vertical in format and the cropping of the boat is similar. Unlike the print, however, Cassatt's composition precluded any indication of scenery beyond the water's surface. She brilliantly represented the reflections of a dazzling summer sun by juxtaposing rough strokes of complementary blue and orange pigment to depict the ripples of water. The carefully crafted gaze of the women contemplating the surface of the water allows us to imagine their emotions in a narrative of a summer day. The painting is considered a masterpiece and prime example of Cassatt's distinctive technique for portraying the atmosphere of summer.