Landscape Painting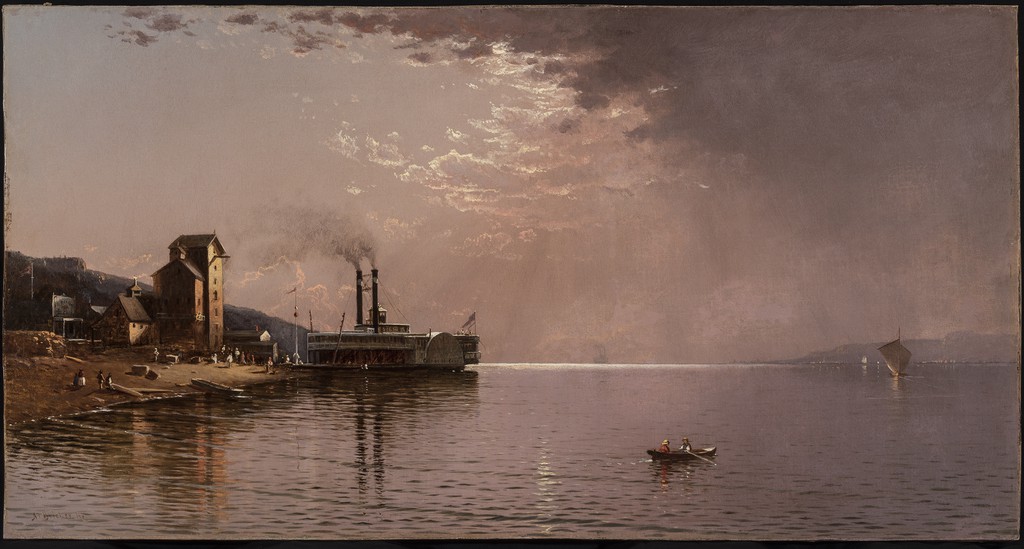 Object-Alfred Thompson Bricher, The Sidewheeler "The City of St. Paul" on the Mississippi River, Dubuque, Iowa,
Alfred Thompson Bricher's coastal landscape paintings are characterized by low, flat horizons and pervasive light. When he traveled from the northeastern United States to the upper Mississippi River valley in 1866, the artist made sketches that would become the basis for studio paintings such as this one. The Dubuque merchant whose dry-goods store appears on the riverbank at left purchased the completed canvas. Bricher was equally attentive in his depiction of the sidewheeler, a type of steamboat well known on the Mississippi and Ohio rivers. The Sidewheeler pictures the expansive Mississippi under a glowing pink sky, framed by the riverbank and steamboat on the left and by sailboats, bluffs, and storm clouds on the right. The work demonstrates Bricher's embrace of the then-emerging American landscape painting style that favored tranquil scenes over the pictorial drama of the Hudson River school.

Learn more about this painting on the Terra Foundation website.
---